What POS Hardware do you need?
When we talk about Simphony, we most discuss software and programming, but Hardware is equally as important in order for a restaurant to run smoothly. In this article, I will discuss all the different POS Hardware for Simphony.
So what kind of hardware should you use? That all depends on the style of your restaurant and the size. Oracle Hospitality (1) offers multiple types of hardware, from regular workstations to tablets, printers, and Kitchen Displays. 
Workstations are more durable and faster than tablets, and they run a wired internet connection, so for tasks that involve a lot of communication, they work great. 
Tablets are portable, allowing the servers to take orders and payments at the table, greatly speeding up service. However, you would not want your Check and Posting Service or Print Controllers to run on Tablets, there is not enough processing power, and the WiFi connection will cause issues with these services. A combination of both workstations and tables would work best, but they are also pricy, so a detailed cost analysis is needed before making any purchase decisions. 
In this article, we will explore each type of hardware and discuss its strengths and weaknesses so that you can make the best decision for your restaurant. It's never too late to make changes, adding and removing hardware can be easily done by a skilled consultant. 
Micros Workstations for Simphony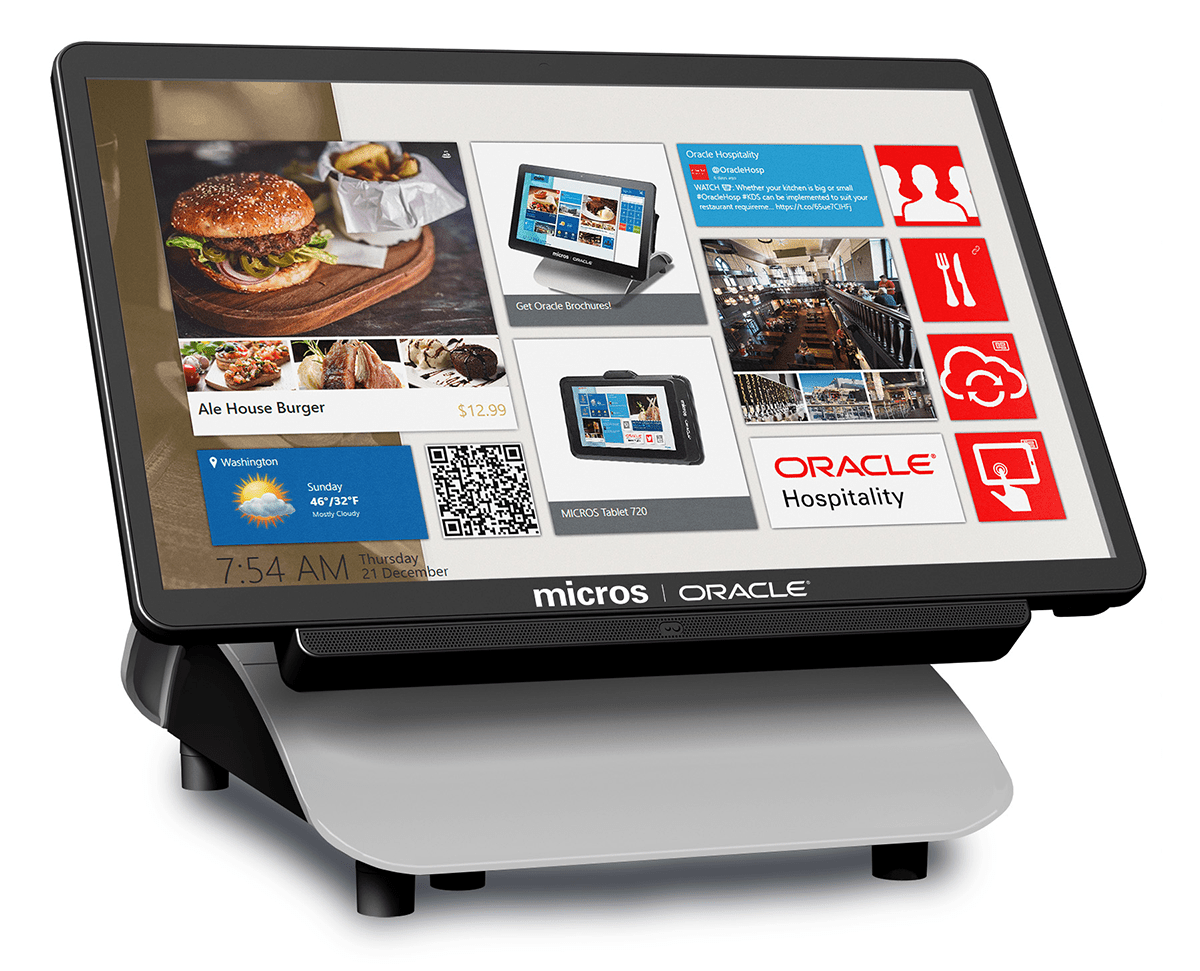 The series 6 workstation has been the powerhouse to run Simphony in the past couple of years. Growing on the popularity of the Workstation 5a, the new 6-series has a modern design and can run both Windows IoT and Oracle Linux. 
Earlier modules included the Workstations 610, 620, and 650, each one having a better processor, more ram, and faster storage. 
The new models currently sold are the Workstations 625E, 625X, and 655X. I know all these module numbers don't mean much to us, but in general, you get what you pay for. The 625E (5) is the cheapest offering but also offers the least amount of power, storage, and features. Use this workstation for light tasks, such as order taking, and only if you use it inside, as its 15.6′ display brightness only goes up to 300 nits and won't be visible in sunlight. We found the screen to be a bit sluggish during the order entry process, so we much prefer the 625X (6) module. 
Both the 625X and 655X models come with a much improved 500 nits display brightness, which makes it useful if you are outside or close to a window. They also have much better Intel processors, 8 Gb of RAM, and bigger storage (128 GB and 265 GB respectively). 
I know all these are random numbers and don't mean much, but in essence, we use the Workstation 625X for general purposes (order taking, payments, print controllers) and the 655X for resource-intensive tasks (CAPS, Payment Gateway). If your restaurant is very large, with dozens of workstations, consider using a separate rack server for your CAPS and Payment Gateway.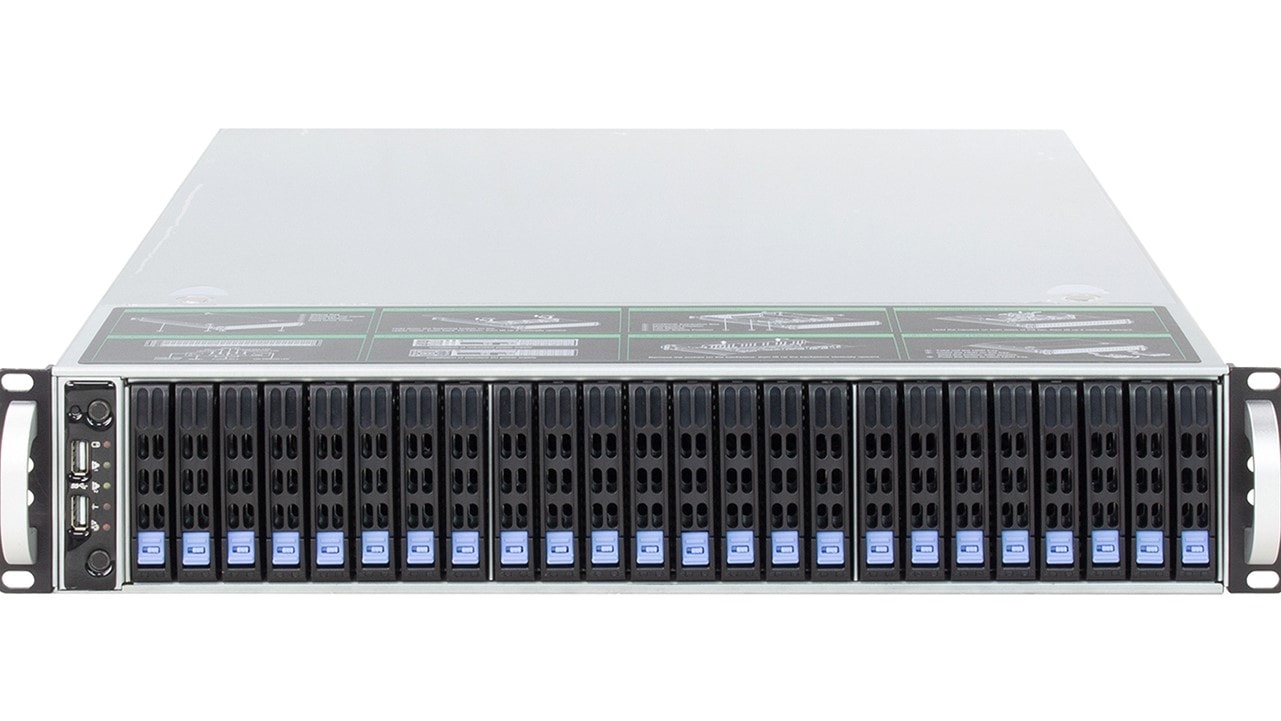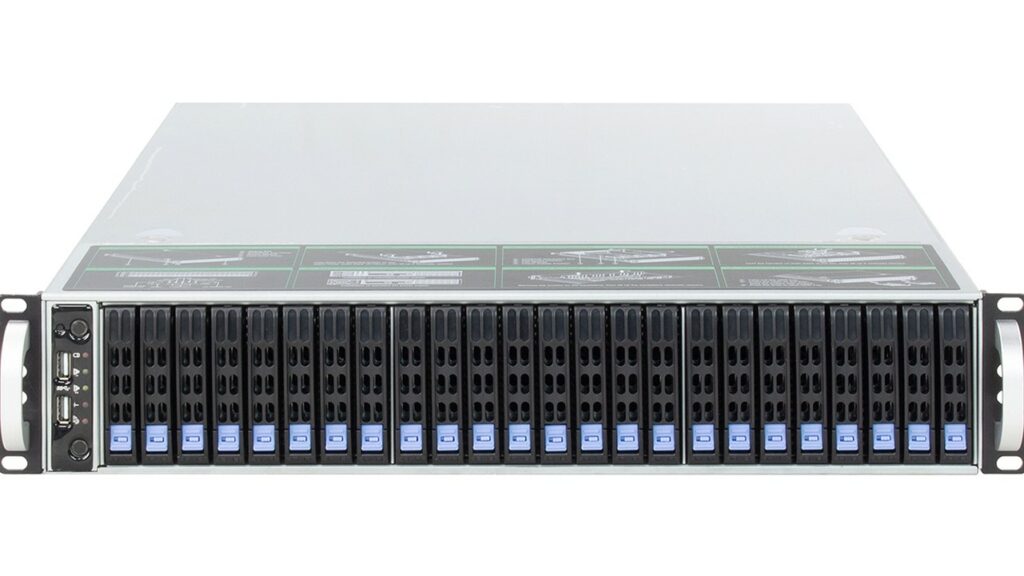 The 6-Series workstations also feature IP-53 dust and moisture protection, which is great for small accidents, and cleaning with a damp cloth, but not to be left outside in the rain. 
It has a built-in magnetic swipe reader, fingerprint reader, and USB A and C connectivity for external devices. 
We love the Workstation 6-Series for most of our needs, and it's been the flagship POS hardware for Simphony we rely on.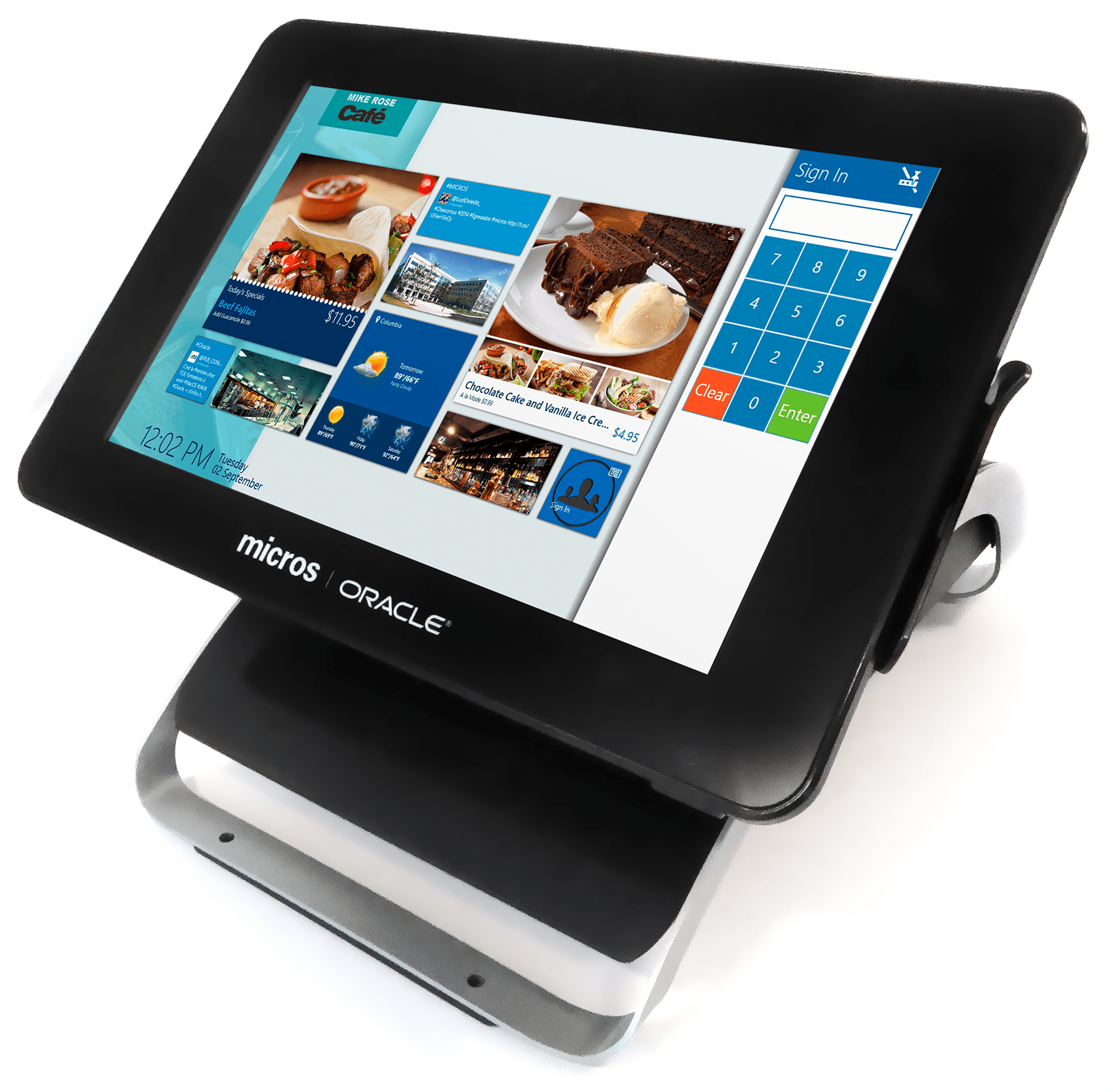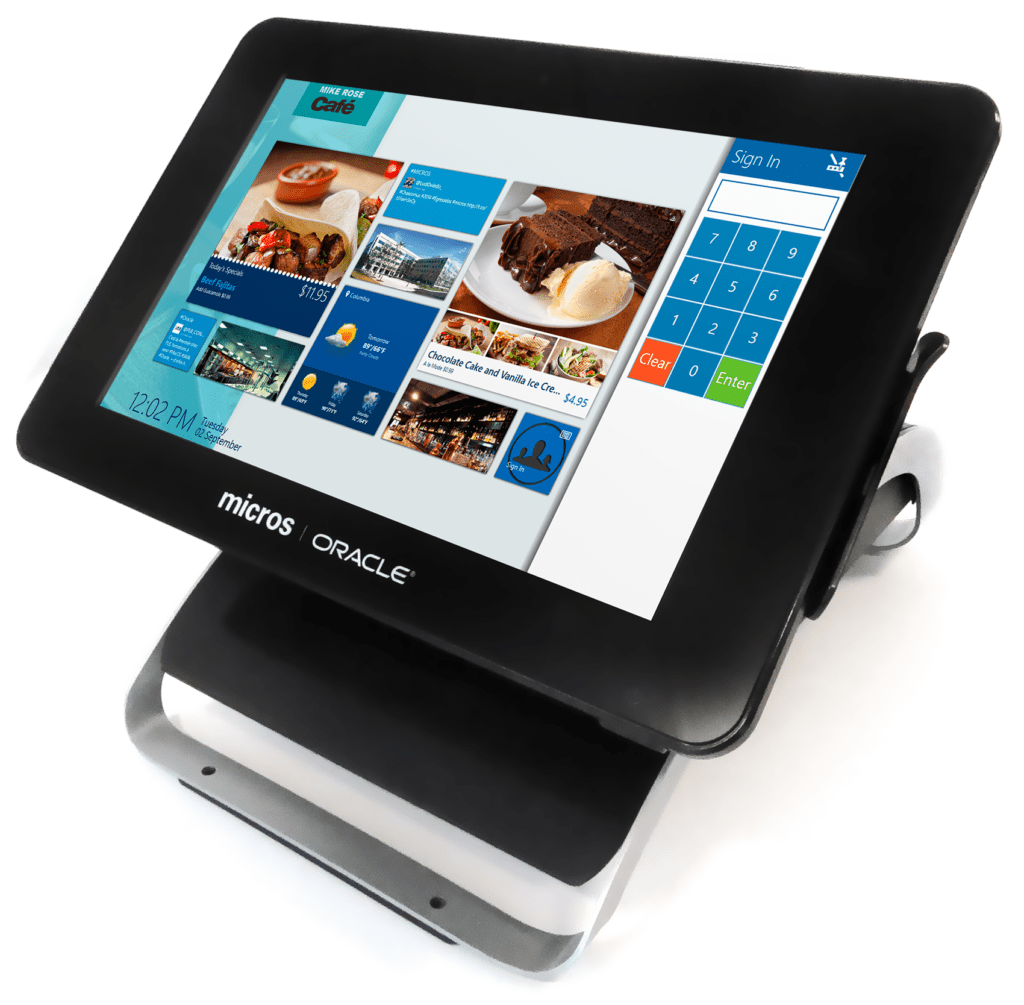 The 3-Series Workstation is a compact-size workstation featuring a 10-inch anti-glare touchscreen and whopping 800 nits of brightness. This makes it perfect for outdoor operations if you need to place a workstation on a terrace or somewhere with a lot of sunlight. 
The workstation is IP-55 rated, which means it can withstand a rain shower, but I don't recommend making a habit of leaving it in the rain. The dock itself is also not great in the rain because of its many connections, so this rating is good for occasional accidents but not meant to be used in the elements all the time. 
This is a hybrid workstation, meaning it has a built-in battery, but it's mostly meant to work in its stand connected to power. The 83 Wh battery makes it very good to run several hours of operation if you need to move somewhere with access to a wall outlet. 
It can run both on a wireless or wired connection, increasing its mobile usefulness, but as with the included battery, it's best to keep it connected to the ethernet port found on the dock for stable connectivity. 
It comes with an Intel Atom processor, 4GB of Ram, and 64 Gb of eMMC memory. What does that all mean? The processor is pretty weak, the ram is low, and the memory is not very fast. In essence, it's good to run operations on it to take orders, but that's pretty much it. I would not use this workstation as a print controller, CAPS, or Payment Gateway, get a 6-Series or Server for that. 
We like using this compact and sturdy workstation in challenging environments, such as terraces, coffee stations, kitchens, or any other environment with a change of splashes and high humidity, but only in conjunction with other, more powerful Workstations to take the load of resource-intensive procedures.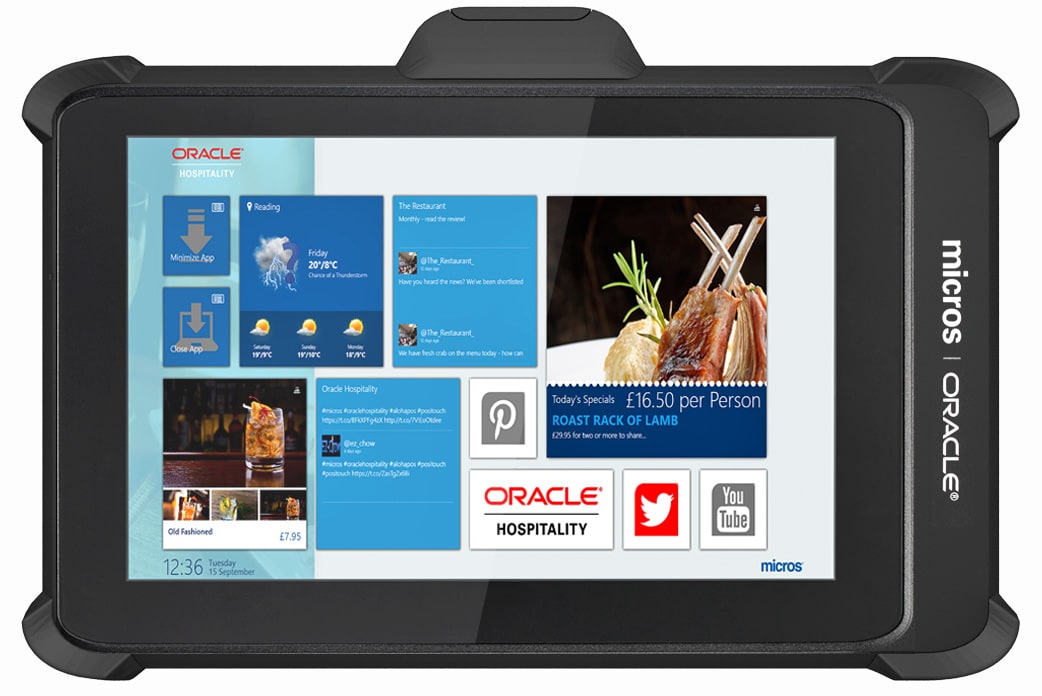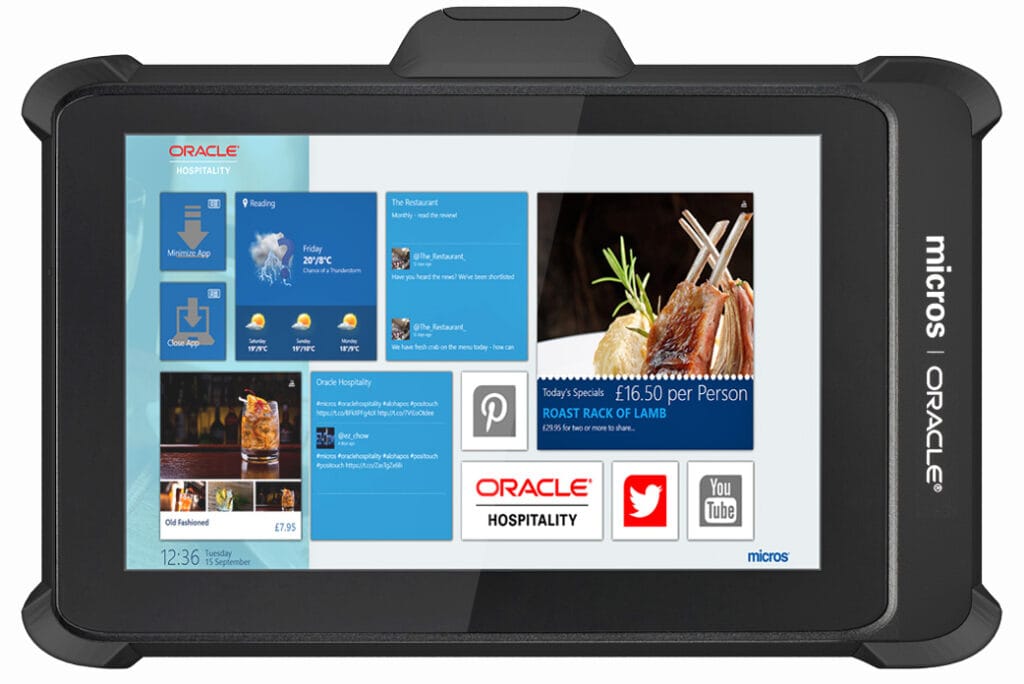 If portability is what you are looking for, the Series 7 tablet is perfect. It's not the most powerful workstation, as a matter of fact, it has the same specs as the 3-Series workstation, with an Intel Atom processor, 4GB of Ram, and 64 GB of storage. 
The 8800mAh Lithium battery will last for about 8 hours and re-charge very quickly, but it has a hot-swappable battery, so if you need to use it for longer than that, just grab another full battery from the office, and you are good to go. 
The 7-inch touchscreen is perfect for taking orders at the table, curbside, or even at the beach. 
It comes equipped with Wi-Fi and Bluetooth connectivity, a magnetic stripe reader, and a barcode scanner. It can also integrate ab optional payment processing unit that supports both tap and chip readers. There is even a battery-powered, Bluetooth printer you can carry along to print receipts, this is a truly mobile solution. 
The only issue I found with these tablets is the internet connectivity. Unless you have a legendary net of WiFi routers all over the place, these tend to lose connection if you move around a lot, and it's very frustrating. 
Another strange thing I found with these mobile devices is their lack of water and dust resistance. This is most like because of the many ports found on the tablet, but I find it strange that it's meant to be carried around but can't take even a little bit of water. I assume Oracle will fix this in the next iteration.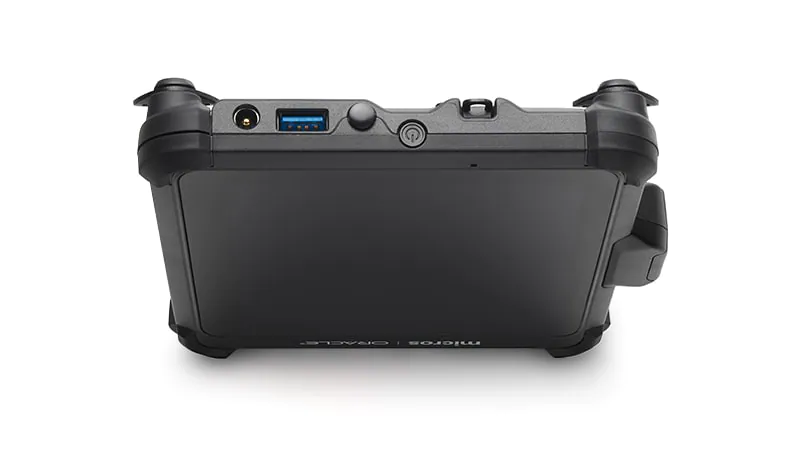 All-in-all they are great devices, durable, lightweight, and reliable. Just like with the Series-3, I would not count on them to run my entire restaurant. I would still have a few Series-6 workstations to do the heavy lifting (CAPS, print controllers, KDS) and use the tablets as auxiliary order takes. 
Micros Printers for Receipts and Kitchen
There are two main types of printers that are used with Simphony:
Impact Printers 
Thermal Printers
Each one has its advantages and disadvantages, and so they are used for different purposes. 
Impact printers use a traditional Ink ribbon and use an impact head to strike the ink on paper. This makes them slower and noisier, but they can print multiple copies at the same time and do ok with heat. All this makes them perfect to be used in kitchens and other back-of-house locations.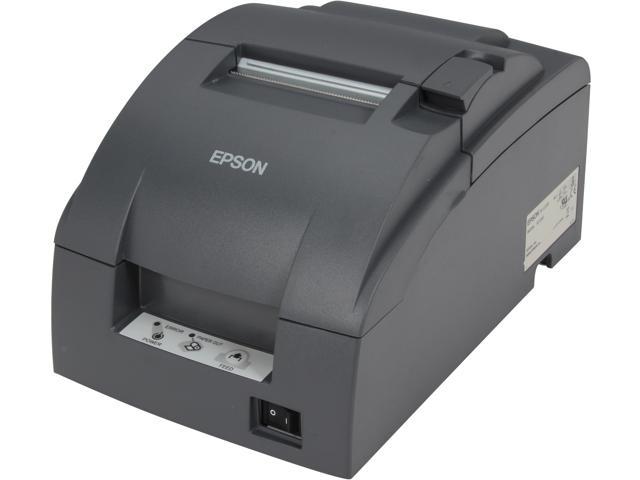 Thermal Printers use a completely different mechanism: the ink is in the paper, and the printer uses a laser to heat up the paper in specific locations to activate the black ink. This makes them much faster and virtually silent, and they never run out of ink.
They are great for printing customer receipts and are used in most frot-of-house locations where an impact printer's sound would disturb the customers. The bar is a great example, nobody wants to sit there, enjoying a beer and listen to a noisy printer buzzing in their ear all day. 
Thermal printers also use special "thermal paper", which contains ink that is activated by heat. This makes them unusable in the kitchen because the paper turns black from the heat lamp. 
Kitchen Display Systems (KDS)
The Kitchen Display System can completely replace your kitchen printers if you are running a fast-paced restaurant or coffee shop.
There are many advantages to using a KDS besides saving paper:
Faster Service – Using KDS will increase the speed of service from the time the ticket is sent to when the food arrives at the table. 
Live time tracking – KDS displays are programmed to change the color of the ticket based on certain times. The tickets turn yellow and later red to show the prep times are high. This is a clear indicator to the kitchen staff that the food is taking too long. 
Never lose a ticket – When the receipt is digital, it's impossible to lose and very easy to recall in case of a re-cook. 
Dynamic Display of Items – When service speed is crucial, like in Fast Food restaurants, you can set your KDS to display the menu item live as the order is being taken. The kitchen will start cooking right away, and the food might be ready by the time the payment is complete. 
Production Items Display – In the situation where the kitchen is very busy and has many orders on the KDS, you can display production items at the bottom of the screen, which helps speed up the cooking process. Example: Burger King shows the number of paddies and the number of fries to be cooked when there are more than three orders on the KDS. The KDS will dynamically calculate how many paddies each item requires and displays the total. 
Advanced reporting – Based on the timing of the items arriving on the KDS and them getting bumped when the food is ready, you get detailed reporting on what items take long to cook and what is holding up the kitchen.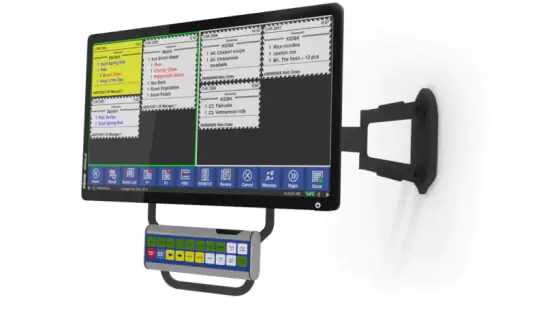 I don't need to convince you that a KDS is better than a printer, that when does it make sense to use it? We have to take a look at the downsides of using the Kitchen Display System as well. And the only downside is cost:
Cost of KDS equipment itself – You will need a screen, a KDS controller, and a Bump Bar for each device.
Cost of Licensing – Depending on how you purchased Simphony, the KDS license might be separate.
KDS Controller – You will need a strong workstation to run the KDS controller, so you might have to upgrade one of your Workstations to a 655X to handle the load.
I always prefer to use a KDS whenever the budget allows it, it's a great addition to any restaurant, but for small, slow operations, you will work just fine with printers.
POS Hardware for Simphony
And that's it for my Guide on the hardware for your Micros POS.
Do you have any questions about Oracle Hospitality Hardware?
What hardware do you use in your establishment?
Let me know in the comments below!