Oracle Hospitality Simphony (1) is a Point-of-Sale (POS) software product widely used in the Hospitality industry.
Property Experts and managers can configure Simphony using the Enterprise Management Console (EMC) application. This application allows you to set up and configure Screens, Menu Items, Prices, and more from your laptop or PC.
In this post, I will cover the basics of how to use EMC, as well as more advanced techniques and all the tips and tricks that I have learned through the years of working with the system.
A very common question I get asked a lot refers to the version of Simphony that different establishments use:
"Will this work with my versions of Simphony?"
I want to address that concern from the very beginning: YES! 
Before being part of Oracle Hospitality, Simphony was developed by Micros, and they used version numbers like 2.9, 2.10, and other variations. After the Oracle acquisition, the version numbers changed to 18.1, 18.2 etc, which naturally caused a lot of confusion.
Thankfully, the core functionality of Simphony is the same across all versions from 2.7 to 19.2, and beyond, so everything I will talk about here will work for all versions of Simphony. 
What changes are you expect to see in the different versions? The color and shape of the Icon, security fixes, and some new functionality were added, but none of these will affect the core programming. 
With all that being said, let's get started!
If you have any questions about EMC, we have a fantastic Facebook community of like-minded individuals that can help! Join for free below!
Before we can do anything in EMC, we must first make sure we have the correct version installed. In order to do that, you will need your server's online address and a username and password. All this information will be provided to you by your administrator.
To install the correct version of EMC on your Computer, follow the instructions below. 
EMC only works on Windows! Mac users, please use Parallels. 
EMC Configuration Hierarchy
Simphony uses a hierarchical system that allows the programming of large enterprises that have standardized menus and prices and small restaurants that are unique. 
Let's talk about the four different levels we can find in Simphony:
Enterprise Level (ex: Corporate Level)
Property Level (ex: Local Restaurant
RVC (Revenue Center Level) Level (ex: Bar, Restaurant)
Zone Level (ex: West Coast Zone) – not always used
The level goes in order, with the Enterprise being the highest and the RVC the lowest, with the zones being able to aggregate multiple Properties or Multiple RVCs.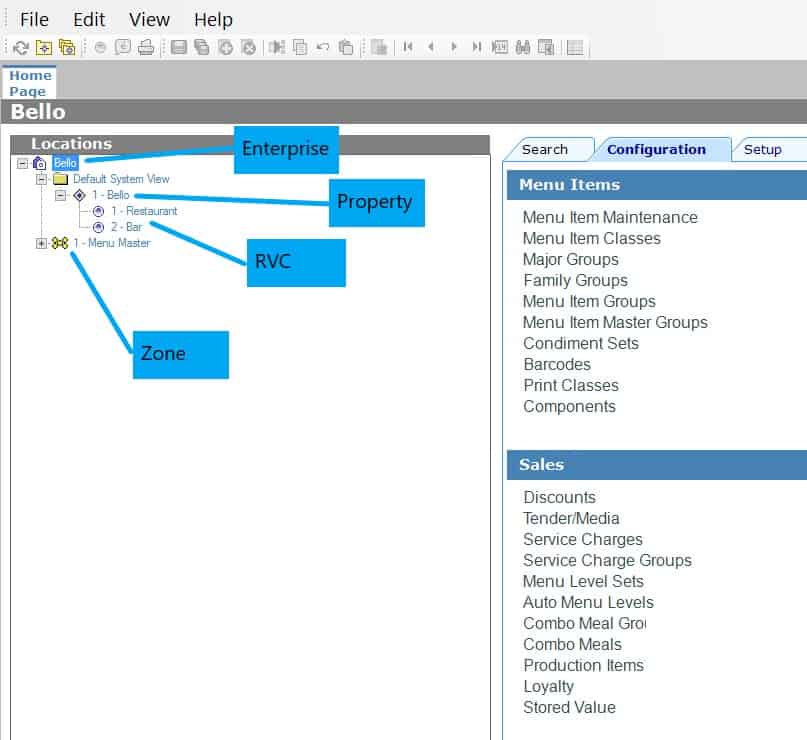 Some modules in Simphony can be accessed at all levels, and some are specific to one of the levels, so if you are ever looking for a module and you can find it, it may be located at a different level than the one you selected.
Menu Items, for example, can be accessed at four levels in EMC, depending on your needs. If your company has standardized menus across all its restaurants, then you can add the menu items at the enterprise level.
If your menu items are different from one restaurant to another, then programming them at the Property level would be needed.
Contrary to that, the Workstations Tab can only be accessed at the property level since the workstation configuration is going to be different for each location (they will have different IP addresses and names, etc). 
PRO TIP: Use the Search Function to easily locate different modules and settings
EMC Access and Privileges
In order to access EMC, an Employee must have the proper Privileges and Visibility set up in the Employee Maintenance Tab.
The level of access employees have (what setting they are allowed to change) is controlled by the Employee's Role. 
The Levels and Modules they see are controlled by the Visibility tab. 
Example: The Corporate Controller should have Visibility to the entire Enterprise and have an Admin Role that allows them access to everything.
For a Restaurant Manager, visibility only over their Restaurant would be more appropriate, and a limited role that allows Employee Maintenance and Price Changes.
PRO TIP: If you are having issues with viewing certain Locations or changing settings, make sure to check your employee Role and Visibility.
When logging in to EMC, you arrive on the Home Page.
The Home Page is organized into two panels:
The Location Panel (Left)
The Modules Panel (Right)
We have covered the Locations Panel until now, this is where select the different levels in Simphony (Enterprise, Property, and RVC), but what we haven't touched on yet, is the Filter located just below the Locations.
The filter can be very useful when managing a very large enterprise with multiple Properties and Zones. 
Filter: Enter the name of a property, revenue center, or zone to show in the Location tree.
Coll: Select to collapse the navigation tree. 
Exp: Select to expand the navigation tree.
Show all zones: Select to show zones in the navigation tree and to include zones in your search. (should always be checked)
 "#": Select to show the object number in front of properties, revenue centers, and zones in the navigation tree (very useful for organizing your Location, should always be checked).
The Modules Panel shows the different Modules available at the level you have selected, they are organized in Tabs and Groups to make programming easier.
Besides the 2 main areas of the screen, EMC contains a Toolbar that should be familiar as it contains common controls found in many other programs. 
The Menu Bar contains the usual: File, Edit, View, and Help dropdowns.
And there are several quick use Icons for items, such as Refresh, Save, and Find.
Here are the most commonly used ones: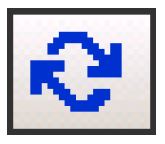 Refresh – Performs a refresh of the current module.

Close – Closes the current module.

Save – Saves changes made to the current module.

Insert – Adds a new record the current module.

Delete – Removes the actively selected record.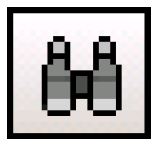 Find – Opens a feature that allows you search records.
PRO TIP: Use the mouse Right Click to get more details about different option bits.
EMC Module Record Filters
By default, most EMC modules show all the available records when open, the only two exceptions being menu items and employees, for those, you also need to click the search button in order to populate the screen.
Some of the modules, especially the ones with many records, like Menu Items, also contain a Filter at the top.
This filter can be very useful, especially for databases with a lot of menu items. 
A great example of how I use the filter is to show only one specific "SLU" (Screen Look Up). This can be very tricky to show, especially if the menu items are not all grouped in the same area.
To use this, Open Menu Items Maintenance, Populate the database by pressing the search key, go to the Definitions tab and use the filter:
Show Records Where: "SLU" "contains the text" "Breakfast".
This will filter all the menu items that show on the Breakfast screen.
If you are looking for more Simphony Training, we have a complete online course and support platform. More details below.
Do you have any questions about using EMC?
What other topics would you like me to talk about?
Let me know in the comments below now!