What are the Oracle Micros POS systems?
Micros Systems INC was founded in 1977 in Columbia, Maryland, USA as a software and hardware solution for the Hospitality Industry and grew to a world leader in the space. In 2014, the company was acquired by Oracle and renamed Oracle Hospitality, but to this day, the Micros name has stuck with us, and that is what will call it. 
Micros had a large number of Point of sale offerings such as:
Micros e7 – a simple POS for Cafes and small establishments
RES 3700 – the most popular, robust, and loved POS 
Micros 9700 – the first enterprise-level POS for large venues
Simphony Gen1 (aka Simphony FE) – Enterprise-level design for large establishments
Simphony Gen2 – Similar to the first generation but cloud-based, a step into the future. 
Although you can still find some of these systems being used today, most of them are now discontinued and don't have any support or updates. The only Micros POS the Oracle team is interested in keeping is Simphony 2 because of its cloud capabilities. 
Due to its popularity, RES 3700 has stuck with us still, and it's still receiving updates, but it will be phased out little by little as it cannot be transitioned to the cloud like Simphony. Oracle is now promoting: "Upgrade Your RES 3700 POS System for the Last Time." by switching to Simphony, which further enforces their intention to phase our beloved RES 3700, R.I.P little buddy.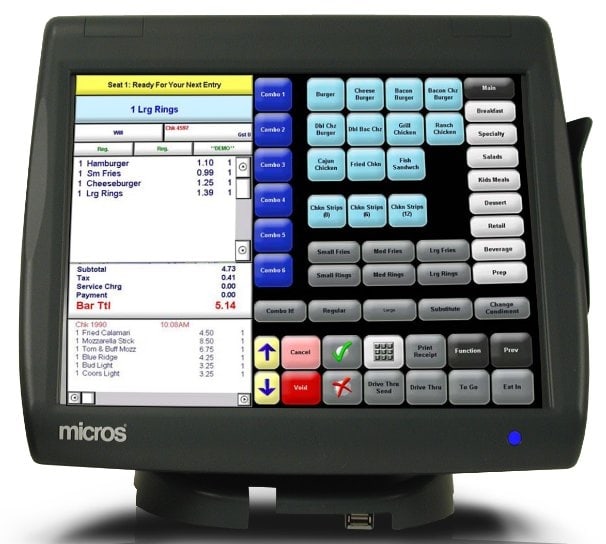 Oracle Micros Simphony - Cloud Based POS
So all we have left is the Simphony Micros POS, which is not a bad thing. Oracle pioneered the cloud before Amazon and Apple made it mainstream with S3, AWS, and iCloud, and it turns out that having a cloud-based POS is pretty awesome. 
What are the advantages of having a cloud-based Point of Sales?
Low upfront cost – no need to purchase expensive servers and networking equipment, and you can now get workstations for as low as $1. 
Better Security – keeping the servers in an Oracle secure data center vs. your back-office is safer from both physical and cyber threats. 
Automatic Upgrades – this was a major pain point for most restaurants I worked in; everyone was on a different version and hated paying for upgrades. 
Better Support – let's face it, things go wrong sometimes, and it's much easier and faster to fix an issue in the data center where they have skilled programmers on staff 24/7 than to run around to individual restaurants. 
The one drawback of all this cloud goodness is the cost. We have to switch to a subscription-based model, where we pay every month vs. the pay-to-own forever we were used to in the past. 
Who should use the Simphony Micros POS?
Since we are left with only one POS solution for all the different hospitality establishments, we pretty much have to all use Simphony now. From small coffee shops, full-service restaurants and fast-food; to stadiums, cruise ships, and ever retail, Simphony can do it all. It's one of the most complete and full-featured POS you can buy today and is being used by hospitality giants like Hilton, Starbucks, Burger King, Norwegian Cruiselines, and pretty much every stadium in the US. 
Unfortunately, the flip side to having such a one-size-fits-all system is the complexity. Simphony is notoriously complicated, and most managers don't know how to program it. I can't re-design the system to make it easier to use, and neither will Oracle; however, I did create an online learning series that will teach you everything you need to know about the Simphony POS.
Simphony Micros POS for Restaurants
Restaurants have been the primary target for the Simphony Micros POS, and it's where most of us use it. It offers a multitude of features that are very useful to any restaurant such as: 
Complete Menu Management 
Employee Management
Table Management
Reservations and Wait Lists
Kitchen Management
Besides all these crucial needs for any successful restaurant, the Simhpony Micros POS also offers Online Ordering, Delivery, and a plethora of integrations with the most popular hospitality apps used today. 
Simphony is used in many fast-paced environments such as coffee shops and fast food restaurants. Because of its enterprise-focused and cloud-based design, it scales really well, especially for franchises and restaurants with similar menus. Some notable features include:
Self-service Kiosks
Multi-channel Kitchen Display Systems
Inventory Management
Gift and Loyalty programs
Large Venus - Cruise Ships, Casinos, Stadiums
Having your servers hosted in the cloud is a great advantage for most restaurants and hotels, but what do you do if your restaurants are on a cruise ship with only slow satellite internet available? Well, Simphony can also be self-hosted, moving the servers on-board. 
Self-hosting is very expensive and complicated, but it works very well for large venues with hundreds or sometimes thousands of workstations, printers, and kitchen displays. Casinos and stadiums are great examples where self-hosting makes sense because of the massive amount of data that is being transferred during an event such as a football game or concert. Features include:
Mobile POS Tablets for taking orders on the move
Room charge capabilities
Compact concession systems
Suite Management
Employee scheduling
Simphony Venue Management (SimVen)
Simphony is the Micros POS that can do it all, but as I mentioned before, its complexity makes it notoriously difficult to program and maintain. 
Luckily for you, we have a fantastic Facebook community of like-minded individuals where you can get answers to all your questions?  Details below!
Do you currently use RES3700 or Simphony? What features do you find most useful?
Do you use a different POS system and considering switching to Simphony? What are the most significant pain points you currently have?
Do you have other questions about the systems that Micros POS offers?
Let me know in the comments below!